---
Weapons Storage Racks,

by SecurityCaging.com.
At SecurityCaging.com, we solve problems of storage, organization, safety, pilfering, restricted access, and more.
Our product delivers a strong deterrent to intrusion, is durable, and provides a high-end, professional appearance. SecurityCaging.com is always the right choice. When you don't want to leave security to chance, rely on the reputation of International Vault, our parent company, with almost 4 decades of experience supplying modular vaults and physical security solutions to clients, worldwide.
Weapons Storage Racks
What are Weapons Storage Racks?
Weapons storage racks are a beneficial solution for organized, high-density storage of weapons. Weapons storage racks are secure storage cabinets intended for storage of weapons inventory in a semi-visible place that improve the efficiency of inventory counts while maintaining the utmost safe and secure practices. NSN Weapons Storage Racks are available, and both products have multiple internal locking features and can be configured by height or weapon with various color options. These secure racks have reverse bi-fold doors that can be opened half flush to allow for the retrieval of weapons while conserving space. Weapons Racks can be installed as free-standing, stationary units or on mobile carriage systems that allow for portable and dynamic high-density storage. Customize your Weapons Storage Rack with SecurityCaging.com to cater to your unique space and inventory to boost productivity and safety.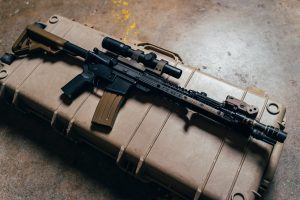 Specifications:
Heights (can be customized)

Widths

Depths

Fixed or Mobile Carriages
Why Use Weapons Storage Racks?
Weapons Storage Racks provide an additional security measure for storing weapons and gear. With an 8 or 9-point locking system and welded construction, weapons storage racks ensure greater security within a secure arms room or storage area. Along with elevated security, weapon storage racks increase organization and efficiency when it matters most. Weapons storage racks are designed to fit any space, any weapons collection, and do so in a safe, concealed, and attractive manner. Weapons storage racks can maximize security and efficiency when paired with other weapons storage systems such as weapons storage cages. 
Who Can Use Weapons Storage Racks?
Weapons Storage Racks are beneficial in many diverse industries and typically serve Military and government agencies ranging from local law enforcement to the FBI, to Land Management. Military and law enforcement can benefit from weapons storage racks by utilizing the heavy-duty design and safety features of the rack to keep a visual inventory of weapons preventing shrinkage and increasing safety. Weapons storage racks can be integrated into secure storage areas to deter theft and reduce potential mishaps with unauthorized users. Shooting ranges also can use weapons racks as an alternative to other storage systems such as weapons storage carts or weapons security cages. Retired law enforcement and hunters have the ability to utilize weapons storage racks to store armory collections of any size. Along with weapons, gear can also easily be organized within weapons storage racks to secure ammo or other high-dollar components. Implementation of weapons storage racks decreases the likelihood of theft or accidents due to mishandling and can boost safety and security in any application.
Contact Us
International Vault was the first established and UL-approved manufacturer of modular vaults. We have been providing security solutions for businesses with high-security needs since 1982. We exist to assist you in finding the right storage and security solutions for your business. With the fastest manufacturing lead times, seasoned experts, and highest available security performance and material spec security ratings, SecurityCaging.com is dedicated to finding the right products for you!
Looking for a more customized solution or more information for your business? Call us at (919) 742-3132 or contact us to speak with an expert and design your unique security solution today!