---
Weapons Storage Cages,

by International Vault.
At Security Caging, we solve problems of storage, organization, safety, pilfering, restricted access, and more.
Our product delivers a strong deterrent to intrusion, is durable, and provides a high-end, professional appearance. Security Caging is always the right choice. When you don't want to leave security to chance, rely on the reputation of International Vault, our parent company, with almost 4 decades of experience supplying modular vaults and physical security solutions to clients, worldwide.
WEAPONS STORAGE CAGES
WHAT ARE WEAPONS STORAGE CAGES?
Weapons storage cages are used for securing weapons within a vault or secure room. Weapons storage cages are designed using wire mesh that can be configured for any space that can be configured as a simple partition or full 5-sided cage. Law enforcement and the military often use weapons cages for added security within a secure arms room to ensure the correct weapons are given to each person while avoiding theft and internal shrinkage. Weapons storage cages can keep weapons rooms more functional and organized with the addition of labels and weapons storage racks. Use weapons storage cages for additional protection and security for your facility.
BENEFITS
An Additional Layer of Security for Arms Vaults and Weapons Storage Areas
Weapons may require an additional layer of security and organization within a secure arms room or vault. Weapons storage cages are ideal for separation, organization, and added security of weapons and equipment. Available in a variety of configurations and sizes, weapons storage cages range from single partitions to 5-sided enclosures. Various options including sliding and hinged doors, wire mesh in both welded and woven configurations, color, and wire mesh gauge. There are numerous options for your secure weapons storage site to maximize security for your weapons.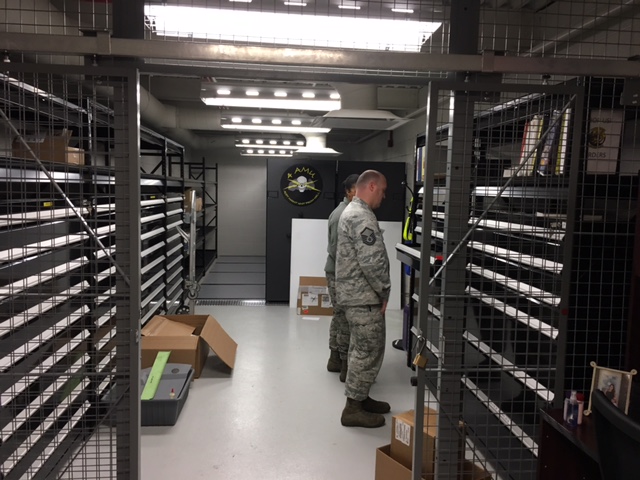 Protect and Organize
Incorporating security caging into an existing armory or secure weapons storage area offers both protection and organization capabilities. Whether using a single wire mesh partition as a divider within the weapons storage area or installing an entire enclosure, Security Caging by International Vault will assist with designing and engineering a caging solution that will meet your facility's secure storage needs. Shelving and other various storage mechanisms are also able to be installed on the interior of the partition or cage to create storage space for both weapons and gear. Weapons can be extremely dangerous if they end up in the wrong hands, so it is best to keep them secured within weapons storage cages. Limit access to a select group with keypad or biometric access to certain weapons cages to ensure more accurate inventory counts while holding employees accountable.
Versatile and Customizable
Available in woven and welded wire options, Security Caging has the capacity to meet required specifications for Weapons Storage Cages. We offer 6 or 10 gauge welded mesh as well as 6 or 10 gauge woven wire mesh to fit your security preferences. Various lock and door options allow for solutions for any size area. Weapons cages can be used in conjunction with modular armory buildings, secure storage rooms, or modular vaults that can be installed with custom dimensions for your space. 
Weapons storage shelving and panels are also great additions to the interior of your secure storage area. Weapons storage cages and weapons storage shelving and panels can be used together to maximize the efficiency and safety of a space. Keep your weapons safe with Security Caging by International Vault.  
CONTACT US
International Vault was the first established and UL-approved manufacturer of modular vaults. We have been providing security solutions for businesses with high security needs since 1982. We exist to assist you in finding the right storage and security solutions for your business. With the fastest manufacturing lead times, seasoned experts, and highest available security performance and material spec security ratings, Security Caging by International Vault is dedicated to finding the right products for you!
Looking for a more customized solution or more information for your business? Call us at (919) 742-3132 or contact us to speak with an expert and design your unique security solution today!