---
Weapons Storage Cages,
by International Vault.
At Security Caging, we solve problems of storage, organization, safety, pilfering, restricted access, and more.
Our product delivers a strong deterrent to intrusion, is durable, and provides a high-end, professional appearance. Security Caging is always the right choice. When you don't want to leave security to chance, rely on the reputation of International Vault, our parent company, with almost 4 decades of experience supplying modular vaults and physical security solutions to clients, worldwide.
Weapons Storage Cages
An Additional Layer of Security for Arms Vaults and Weapons Storage Areas
Looking for an additional layer of security within your secure arms room or vault? Weapons storage cages are ideal for separation, organization, and added security of weapons and equipment. Available in a variety of configurations and sizes, weapons storage cages range from single partitions to 5-sided enclosures. Various options including sliding and hinged doors, wire mesh in both welded and woven configurations, color, and wire mesh gauge.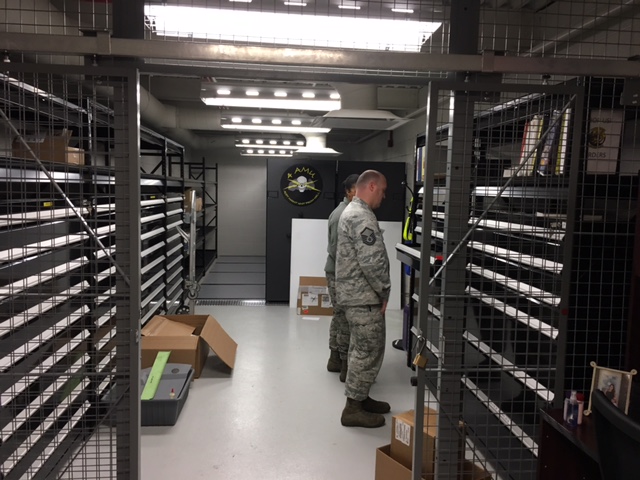 Protect and Organize
Incorporating security caging into an existing armory or secure weapons storage area offers both protection and organization capabilities. Whether using a single wire mesh partition as a divider within the weapons storage area or installing an entire enclosure, Security Caging by International Vault will assist with designing and engineering a caging solution that will meet your facility's secure storage needs. Shelving and other various storage mechanisms are also able to be installed on the interior of the partition or cage to create storage space for both weapons and gear.
Versatile and Customizable
Available in woven and welded wire options, Security Caging has the capacity to meet required specifications for Weapons Storage Cages. Various lock, wire mesh gauge, and door options allow for customizable solutions for any sized area.
Weapons storage shelving and panels are great additions to the interior of your secure storage area. Read more about our weapons storage shelving and panels.
Contact us or call 919-742-3132 to learn more about our Weapons Storage Cages!