---
Where our competitors ship components,

we provide security solutions.
At SecurityCaging.com, we solve problems of storage, organization, safety, pilfering, restricted access, and more.
Our product delivers a strong deterrent to intrusion, is durable, and provides a high-end, professional appearance. SecurityCaging.com is always the right choice. When you don't want to leave security to chance, rely on the reputation of International Vault, our parent company, with almost 4 decades of experience supplying modular vaults and physical security solutions to clients, worldwide.
Products
SecurityCaging.com offers a wide variety of secure storage products. From wire mesh partitions, to military grade TA-50 storage lockers, our industry versatility equips us to offer turnkey solutions for any project. Protecting and preserving businesses and residential homes for over three decades, SecurityCaging.com is well-equipped to increase your secure storage in any area. Contact us or call 919-742-3132 to learn more about how we can help!
Wire Mesh Partitions
Our wire partitions are perfect for customizing and securing any space. They can create barriers between areas, or form enclosures by fitting panels against existing walls. At SecurityCaging.com, our modular approach allows you to build wire cage walls all the way to the ceiling, as well as use the same panels to provide a secure wire mesh top to the enclosure.
Provide storage for high-value products, ranging from tools and machinery to bicycles and electronics. Learn more on our Wire Mesh Partitions page.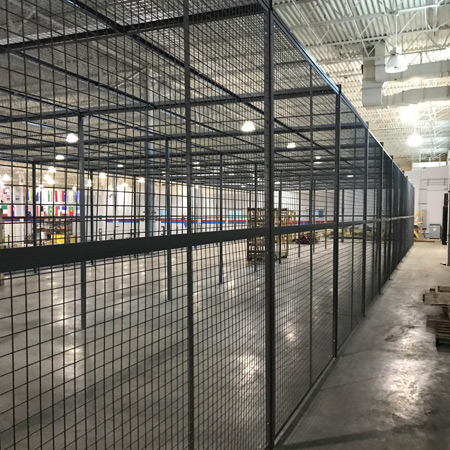 Pallet Rack Safety Systems
Pallet Rack Safety Systems are designed to protect employees and various warehouse equipment from falling off industrial shelving. These wire mesh panels are secured directly to the existing pallet uprights and help to mitigate dangerous situations caused by falling merchandise or equipment. Learn more on our Pallet Rack Safety System page.
Guard Rails and Hand Rails
Guard Rails and Handrails are commonly installed in various warehouse and manufacturing applications. These protective barriers help to eliminate work related injuries as well as facility and equipment damage. Learn more on our Guard Rails and Hand Rails page.
Machine Guarding
Machine Guarding consist of wire mesh panels that surround various warehouse and manufacturing machines in order to prevent injury. Installing these guards will protect your employees, equipment, and the machines themselves during production. Learn more on our Machine Guarding page.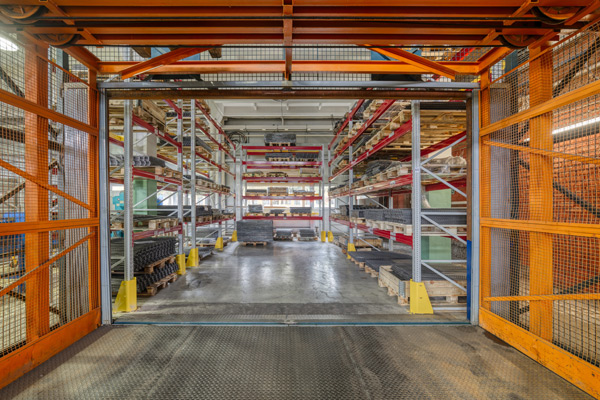 DEA Caging
DEA compliant Security Caging is used in various applications including Pharmaceutical, Military and Government, and many more. These cages tend to be taller in height than regular security caging, and are constructed to meet the stringent requirements of the Drug Enforcement Agency. Learn more about our DEA Compliant Caging.
Tenant Storage Lockers
Tenant Storage Lockers are an increasing commodity within senior living, and various apartment complexes. Utilizing storage areas within the space underneath or in the parking garages of a building, these lockers offer a personalized area for residents to house belongings outside of their living space. Learn more about our Tenant Storage Lockers.
TA-50 Military Lockers
TA-50 Military Lockers offer the ability for Military, Government, and Law Enforcement agencies to increase organization, as well as secure heavy equipment. Many military bases, police departments, and other government operations install these lockers for a number of organization and secure storage needs. Learn more about our TA-50 Storage Lockers.
Mezzanine Systems
These intermediary flooring systems are a cost-effective way to add structural storage space to a warehouse, office, or other commercial building. With several options available, Mezzanine Systems are proven to increase storage space, organization, and safety of equipment on a second warehouse level. Click here to learn more about our mezzanine systems.
Cage Doors, Locks, Door Opener, and Door Closer Options
Our Security Caging doors are offered in a variety of styles, specifications, and colors. Whether your caging system would be most efficient utilizing a single hinged, double hinged, sliding, tunnel, vertical rise, or dutch door, SecurityCaging.com has you covered. Learn more about our Security Caging doors.
There are many additional features available to add to your new Security Caging system. Lock options including biometric finger readers, push bars, standard partition locks, thumb turn latch, door knobs, electric strike, and many others are available to make your Security System perfect, no matter the application. Contact Us or call 919-742-3132  to discover how you can customize any of our security caging systems with additional features.