GIVE US A CALL
919-742-3132
---
Wire Cages

for Safety Applications
At SecurityCaging.com, we offer solutions in machine guards, tool cribs, wire partitions, and more.
Our systems are built for heavy duty applications. Protect workers from wandering into the range of robotic arms and robotic welders, moving machine parts, and more. These systems are secure, with bolts accessible only from the inside and flexible, able to be assembled in single wall, two wall, three, and four wall configurations..
Machine Guards, Tool Cribs, Robot Cages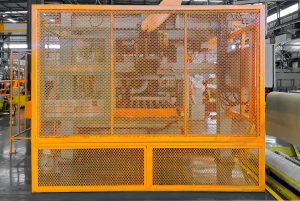 Wire caging and wire mesh enclosures are heavily used in industry and manufacturing.
Safety is a critical concern on the factory floor, and so is security. At SecurityCaging.com, we have customizable wire mesh solutions for:
Tool cribs and machine storage areas
Machine guards
Robotic work-station enclosures
Welding gas lockers
Wire partitions
At SecurityCaging.com, we offer solutions in storage, organization, safety, restricted access, and more.
Manufacturing Solutions
Moving machines and machine parts can cause severe workplace injuries, including crushed fingers and lacerations, amputations, burns, and even blindness. Safeguards are essential for protecting workers from preventable injuries.
According to the Occupational safety and Health Administration, "any machine part, function, or process that may cause injury must be safeguarded. When the operation of a machine or accidental contact injure the operator or others in the vicinity, the hazards must be eliminated or controlled." United States Department of Labor.
Wire mesh caging provides a number of advantages. You can partition off a secure storage area for products, tools, and machinery while maintaining complete visibility along with uniform heating and lighting.
Wire caging can be used to create manufacturing floor office and supervisory areas, while maintaining complete security for personnel, computer equipment, records, and more.
Our wire cages can be built floor to ceiling or equipped with their own secure wire-mesh covers. Wire caging is not only flexible in design but flexible in disassembly, re-configuration, and re-use. As your needs change, so does our caging.
Our modular design and optimized mounting and hardware systems allow for fast installation.
Heavy assembly hardware, base plates, and anchors provide top-of-the-line security.
Sliding doors, service doors, hinged doors, double-hinged doors, and Dutch doors deliver the ease of access that is right for you.
Call us today at 919-742-3132 or fill out our contact us form. Our wire caging solution provides are ready to engineer the perfect solution for you needs.