---
TA-50 Military Lockers,

for heavy equipment.
At SecurityCaging.com, we solve problems of storage, organization, safety, pilfering, restricted access, and more.
Our product delivers a strong deterrent to intrusion, is durable, and provides a high-end, professional appearance. SecurityCaging.com is always the right choice. When you don't want to leave security to chance, rely on the reputation of International Vault, our parent company, with almost 4 decades of experience supplying modular vaults and physical security solutions to clients, worldwide.
TA-50 LOCKERS
FOR THE STORAGE OF BULKY, HEAVY EQUIPMENT.
Wire Mesh TA-50 Lockers are a beneficial inclusion to any military, emergency service, government facility or base that utilizes heavy, bulky equipment or gear. From storage for fireman's life-saving gear, EMS equipment, to sizable military backpacks, TA-50 lockers are a secure solution for the storage of critical gear. These lockers not only offer top-tier protection from theft but provide a simplified approach to achieving systematic organization of gear, equipment, and personal belongings.
Contact us or call 919-742-3132 to see how TA-50 Storage Lockers can benefit your equipment and gear storage!
Sleek | Modern | Efficient
SecurityCaging.com offers sleek, top-of-the-line, and the most efficient TA-50 Lockers in the industry. From design to installation, SecurityCaging.com provides turnkey services to ensure you and your agency receive the perfect secure storage solution that meets and exceeds your standards.
Organization in government, military, and emergency service facilities is crucial to ensuring internal operations are polished and running smoothly and efficiently. The storage of bulky, heavy, or awkward equipment and gear presents a challenge when trying to systematically organize these items and make sure they are correctly stored and assigned to the correct personnel. Eliminate chaotic, messy storage rooms by implementing our TA-50 Lockers. Customizable options including the inclusion of additional shelving and hooks are beneficial additions to boost organization and help expedite removal and restocking of these items in situations where users may be in a time crunch without the mess.
Aesthetically pleasing, sleek, and modern, SecurityCaging.com has multiple finishes and color options for our TA-50 lockers. Check out our Color Customization and Finishes page to explore the best option for you. Our sales team is readily available to discuss the design process with you and will assist you in designing a locker system that will become an invaluable asset to your facility. 
The standard size for these lockers is 24″ deep x 72″ wide x 78″ high. The Interior shelf, back panel, and top panel of lockers are formed in 16 gauge sheet metal. The bottom panel is 14 gauge steel, 4″ high, and heavy-duty to accommodate all of the bulky military gear. Coat hooks on the interior of the locker are also included on all standard orders.
Various lock options are available to meet the security needs of each individual locker area or facility. Visit our Lock Options page to learn more about the locks available for TA-50 lockers.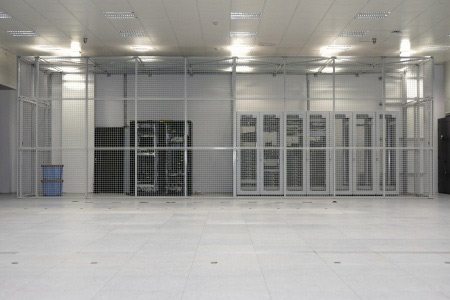 Standard lockers feature:
2″ square 10 gauge welded wire
OR
1 1/2″ 13 gauge flattened expanded metal
Custom sizes and features are available:
Choose between welded wire, woven wire, expanded metal, or sheet metal

Tubular or angle structural frame

Sliding or hinged doors

Padlock or keyed lock
ORGANIZE, SECURE AND PERFORM
Our military branches, EMS, Fire Departments, and Police are expected to perform at their best every day. TA-50 Lockers by SecurityCaging.com will undoubtedly boost organization, security, and help personnel reach peak performance at the highest standard.
Contact Us to learn how TA-50 lockers can increase the productivity and organization of your military operation!