---
TA-50 Military Lockers,

for heavy equipment.
At Security Caging, we solve problems of storage, organization, safety, pilfering, restricted access, and more.
Our product delivers a strong deterrent to intrusion, is durable, and provides a high-end, professional appearance. Security Caging is always the right choice. When you don't want to leave security to chance, rely on the reputation of International Vault, our parent company, with almost 4 decades of experience supplying modular vaults and physical security solutions to clients, worldwide.
TA-50 Lockers
For the storage of bulky, heavy equipment.
Many government and military operations require equipment that is quite difficult to store. Heavy, bulky, and not space efficient, keeping objects such as backpacks and other items organized can be a challenging task. Incorporating wire mesh TA-50 Lockers into a military base or other application involving the storage of heavy, bulky equipment will increase not only the overall organization of the operation, but also the safe and secure storage of this expensive gear.
Contact us or call 919-742-3132 to see how TA-50 Storage Lockers can benefit your equipment and gear storage!
Sleek | Modern | Efficient
Storing heavy and bulky equipment is a challenge for military and government applications where organization is crucial. Not only do these lockers eliminate messy and unorganized storage of gear, they also feature a sleek. modern, and very aesthetic exterior. Lacking organization of various gear used on a daily basis could slow down an operation and result in poor productivity. By installing TA-50 Lockers, any military operation can feel well-equipped and ready to handle any situation.
Standard size for these lockers is 24″ deep x 72″ wide x 78″ high. Interior shelf, back panel, and top panel of lockers are formed in 16 gauge sheet metal. Bottom panel is 14 gauge steel, 4″ high, and heavy duty to accommodate all of the bulky military gear. Coat hooks on the interior of the locker are also included on all standard orders.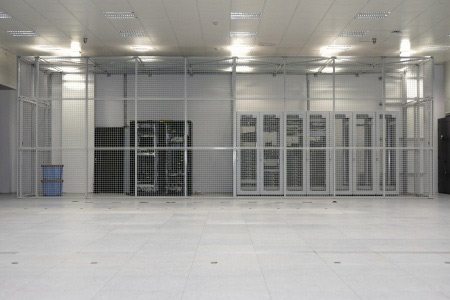 Standard lockers feature:
2″ square 10 gauge welded wire
OR
1 1/2″ 13 gauge flattened expanded metal
Custom sizes and features are available:
Choose between welded wire, woven wire, expanded metal, or sheet metal
Tubular or angle structural frame
Sliding or hinged doors
Pad lock or key lock
Organize, Secure and Perform
Our military branches are expected to perform at their best every day. TA-50 Lockers by Security Caging will work hard to organize, secure, and perform to the high standard of our military professionals.
Contact Us to learn how TA-50 lockers can increase the productivity and organization of your military operation!