Why Choose Wire Mesh Partitions?
A Cost-Effective, Flexible Security Option
Wire mesh partitions are simple, durable, and flexible. They provide a cost-effective answer to security needs for a range of facilities, including warehouses, pharmacies, data centers, police, military installations, and more. Wire mesh partitions can be moved and reconfigured for facility renovations, growth or shrinkage, or facility changes. Wire mesh partitions can be a cost-effective solution to long and costly construction.
Resistant to Bolt Cutters
One attractive feature of wire mesh partitioning is its resistance to bolt cutters. Where intruders can easily cut their way through a chain link fence in seconds, heavy-gauge wire partitions require many more cuts to breach, and bolt cutters are not an effective tool in getting through wire mesh caging. Resistance, difficulty, and delay are valued security features of wire mesh, giving it a perfect role to play in many operations. Wire mesh is resistant to thieves and daily wear and tear with varying gauge options for standard or heavy-duty uses.
Flexible and Customizable Partitions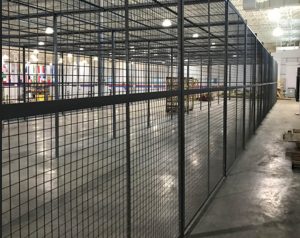 Wire partitions are modular, which means they are an asset for your company. They can be installed, then broken down and repurposed as needs change. Wire partitions can be used to create storage cages for tools, equipment, and inventory, partitions to act as machine guards or robotic barriers, open offices or break rooms on the factory or warehouse floor, as well as to design access checkpoints to sensitive areas. Wire mesh partitions are fully customizable by gauge, mesh type, lock type, door type, configuration, and more.
Inherent Benefits of Wire Mesh
Solid partitions have limiting qualities in comparison to wire mesh partitions. You can't see through a solid barrier. Airflow is restricted, and solid walls limit the effectiveness of facility lighting or require additional lighting for the same floor space. Fire suppression systems, especially inert gas systems of the type used at some data centers, can be obstructed by solid partitions. Solid partitions often cost more without providing superior security to wire mesh partitions.
Though lighter, easier to install, and more flexible and customizable to your space, wire mesh partitions can still withstand aggressive physical attacks, including sledgehammer assault. Wire mesh partitions can be outfitted with a variety of gate and door solutions, including sliding doors and magnetic locks. There are numerous customizations for wire mesh partitions or cages to fit any space and any preferences.
New Industries Need Wire Mesh
Far from being a 20th century solution chosen by older industries; wire mesh is the preferred choice of the 21st century's fasted growing businesses. These include the high-tech world of modern data centers and the changing commercial world of legalized marijuana. With an increase in online commerce, warehouses and distribution centers must keep all goods and items secure and organized for the best efficiency. Wire mesh delivers the flexibility and customizability prized by new and growing businesses.
How Security Caging Can Help
Wire caging is more versatile than any other type of barrier. It allows for uniform lighting, provides visibility, and does not impede fire suppression systems. Wire partitions direct and separate foot traffic, while keeping all personnel and visitors in the range of security cameras.
Want to learn more?  Visit our web page on Wire Mesh Partitions or call us at 919-742-3132 or visit our Contact us page today.