Modular Security Cage Solutions
Selecting a type of secure storage system is generally based off a list of criteria. Strategizing how much space is required to store necessary assets, the level of security, type of access required into the system, and several other factors may be the main components of your search. However, what if down the road some of these factors change? Maybe your facility has a need for increased space or reconfiguration of your system based off of the dynamic nature of your business. If you have installed a system that is non-modular, purchasing a whole new secure storage area may be necessary. Modular Security Caging systems eliminate the need for a new system.
Why Modular?
Modular Security Cage systems allow for expansion, reduction, and reconfiguration of your secure storage area. Manipulating panels, posts, and doors, your security caging system is easily changed in order to fit the needs of your facility. Changing locations? No problem. Choosing a modular cage makes relocating easy as they are moveable. These systems are considered assets because they are not part of the actual building construction, and are a long-term investment.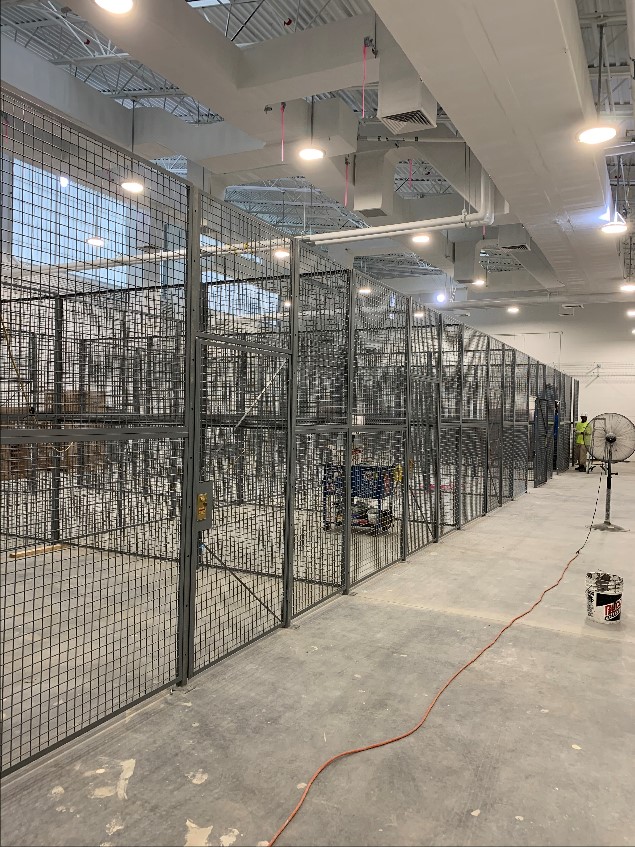 Expansions
Imagine your facility inventory has grown by 50% in the past year. Where do you store the surplus of products? Our experts can assist with expanding the area of the cage and determining how much additional space is needed for the increase in storage. Using the same process as your original cage purchase, our design team will compile necessary panel, post and hardware quantity to complete the desired expansion. Contact us if you are interested in learning more about expanding your existing modular security caging system!
Easier Installs
By choosing modular secure storage solutions, installations will be quicker and easier. Instead of coordinating bulky and non-configurable chain link alternatives, wire mesh security caging is easier to work with. Shipped in panels, these systems are easily assembled upon arrival to your facility. Wire mesh is also much easier to field modify than other security solutions. Visit our page on field modifications and installations to learn more!
Reconfigurations
Reconfiguring a wire mesh partition system will enable customization of your secure storage area, even after installation. Changing the shape and layout of your system is possible by choosing modular security caging. For example, if a warehouse alters or moves their receiving area to the opposite site of the area, a security caging door is able to be moved and reconfigured to a different side of the system for increased accessibility. In other instances, facilities may be seeking additional separation of products or inventory. By ordering additional panels that meet the same elevation, areas within the cage are able to be created by inclusion of a wire mesh partition to divide the space. No matter the size, shape, and desired functionality of your security caging system, Security Caging by International Vault's modular solutions will make secure storage easy and adaptable.
Give Security Caging a call, 919-742-3132, to discover secure, modular solutions for your business or residential application!