---
Driver Cages,

by SecurityCaging.com.
At SecurityCaging.com, we solve problems of storage, organization, safety, pilfering, restricted access, and more.
Our product delivers a strong deterrent to intrusion, is durable, and provides a high-end, professional appearance. SecurityCaging.com is always the right choice. When you don't want to leave security to chance, rely on the reputation of International Vault, our parent company, with almost 4 decades of experience supplying modular vaults and physical security solutions to clients, worldwide.
Driver Cages
For Facility Safety and Security
Protection of your employees, visitors, and inventory is possible through installation of a Driver Cage! Controlling the access into and out of your work location will prevent theft, reduce warehouse and equipment related accidents, and separate employees from facility visitors. Limiting unauthorized traffic within your facility in regards to deliveries, various truck drivers and logistics personnel, and other visiting individuals within your place of work will increase security and peace of mind.
Installing an additional layer of protection for your warehousing facility, Driver Cages by SecurityCaging.com are available in custom sizes and with service windows. Either free standing or anchored to existing walls, dimensions are flexible and can be adjusted to accommodate any space. Service windows are generally outfitted with a service window with built in shelf that offers a convenient area for personnel interaction.
Driver Cage Features
Generally three sided to allow access to an outside door, Driver Cages are a great addition to any warehouse seeking more security. Our Driver Cages feature 10 gauge woven wire mesh into a 2′ x 1′ pattern, strong enough for any commercial or warehousing application. An interior door with access to the warehouse is equipped with a push bar, allowing employees who have been admitted inside to exit. The inside of the driver access door features a simple key lock, confining drivers, delivery, and other visitors within the cage.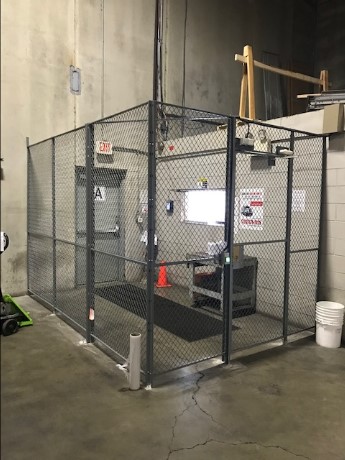 Push bar for warehouse side exit
Service window for paperwork completion
Other lock options available
Electric remote latch release available
2″ square steel support posts

Feature welded base plate

Minimum 1-1/2″ reinforcement every 60 inches
All Driver Cages can be personalized to suit the needs of your facility. Additional features such as steel benches, service windows, and ceilings are available.
Driver Cage Applications
Driver cages are a great way to track and limit who has access to a facility. From manufacturing plants to warehouses, business owners cannot allow the public to freely enter their facility. Energy facilities can use driver cages to authorize individuals who have access to the facility for safety purposes. Machines and expensive equipment should not be easily accessible, so driver cages help to limit access to a select group of individuals. Many warehouse facilities that store packages and equipment that is being shipped must control their access to ensure that drivers and employees have access to necessary facilities without allowing anyone to enter and tamper with items or equipment. Driver cages are a cost-effective solution for many facilities.
Security where it matters most
Trust SecurityCaging.com to offer a turnkey solution for all of your warehouse's Driver Cage and physical secure storage needs.
Contact us or call 919-742-3132 to learn more about our extensive wire mesh product line and specifically, our Driver Cages!