GIVE US A CALL
919-742-3132
---
Wine Secure Storage,

Security Caging
At SecurityCaging.com, we offer solutions in storage, organization, safety, restricted access, and more.
Designed with modular customization in mind, our wire partitions are ready to be what you need them to be. Our panels are stackable, providing for fast installation and a building block approach. These systems are secure, with bolts accessible only from the inside and flexible, able to be assembled in single wall, two wall, three, and four wall configurations.
Wine Storage
Wire Mesh Partitions
In the hospitality industry, the busy season is year-round. Wineries are more popular than ever – From tasting rooms to breath-taking vineyard views, the wine industry is booming. Secure wine storage systems are a customizable solution for any wine manufacturer, distributor, or winery location. Wine Storage Lockers and wire mesh partitions provide systematic secure storage with the ability to be fully integrated into a climate-controlled facility. Fabricated from durable steel, SecurityCaging.com's wire mesh withstands cool and humid temperatures with ease. Our systems are fully customizable and offer a variety of mesh gauges and styles. With custom color and finish options available, Wire mesh Security Caging is an aesthetically pleasing and beneficial asset for any facility. Protect your luxury wine collections along with stock cases and bottles in a secure, climate-controlled environment that deters internal shrinkage, external theft, and worst of all, broken wine bottles. Our resistant wire mesh partitions are used to construct our Wine Storage Lockers and provide a perfect storage solution for any dry storage or climate-controlled facility. 
At SecurityCaging.com, our team of expert sales specialists will provide you with quality materials and custom-designed systems that will elevate your facility with unmatched organization and security for any application in the Wine Industry.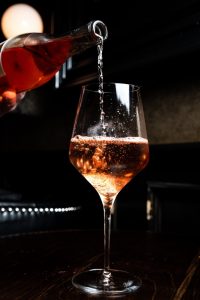 High-Density Storage & Wine Storage Lockers
The introduction of wire mesh partitions within your facility is a favorable addition that helps boost efficiency and organization. When paired with our high-density storage shelving systems, your security cage and its contents will reach peak organization. Inventory counts can be tedious and time-consuming, and high-density storage is an excellent solution to reduce time spent on inventory counts and improves facility efficiency overall. High-density storage allows for greater floor space, and stores wine collections, cases, or bottles in a vertical fashion. High-density storage, when used in conjunction with Wine Storage lockers, will provide you with an organized, secure, and protected inventory. Wine Storage lockers have a variety of lock options including standard keyed lock, electric strike, and biometric access. Each unit is customized to store and protect wine bottles and provide systematic storage for easy access and inventory counts. Any volume of luxury wine collections or stock cases can be stored in Wine Storage Lockers. Our sales team will guide you through a detailed evaluation of your space to help you configure a secure system that suits your inventory and that can readily expand and your business continues to grow.
Each secure unit is fabricated from heavy-duty steel and anchored to the floor for maximum stability. Moving facilities? No worries! Our caging systems are portable and can be removed and relocated in the event that your facility moves, expands, or simply needs to rearrange. SecurityCaging.com is here to assist throughout the entire process with the help of our expert sales team members and engineers to assist with any installation questions or concerns. Each unique facility has different demands in regards to space, elevations, and safety and security requirements. SecurityCaging.com is here to help you design a secure storage system that will serve as an invaluable asset to your facility.
Climate Control & Benefits
A crucial benefit of SecurityCaging.com's Wine Lockers is their ability to withstand climate-controlled facility conditions. Through trial and error and application of our secure systems in wineries, the optimal formula has been engineered to furnish our materials with a finish that combats humidity and cold temperatures without losing luster or the material depreciating. Each locker unit can withstand the weight of multiple cases of wine. Overall, with a complete locker set, this secure system can securely store thousands of bottles of wine. SecurityCaging.com strives to provide you with top-of-the-line materials and a finished secure system that will prove to be an integral component of success for your business.
Contact Us Today!
International Vault was the first established and UL-approved manufacturer of modular vaults. We have been providing security solutions for retail businesses since 1982. We exist to assist you in finding the right storage and security solutions for your retail business. With the fastest manufacturing lead times, seasoned experts, and highest available security performance and material spec security ratings, SecurityCaging.com is dedicated to finding the right products for you!
Looking for a more customized solution or more information for your business? Call us at (919) 742-3132 or contact us to speak with an expert and design your unique security solution today!