---
Weapons Storage Panels and Shelving,

by SecurityCaging.com.
At SecurityCaging.com, we solve problems of storage, organization, safety, pilfering, restricted access, and more.
Our product delivers a strong deterrent to intrusion, is durable, and provides a high-end, professional appearance. SecurityCaging.com is always the right choice. When you don't want to leave security to chance, rely on the reputation of International Vault, our parent company, with almost 4 decades of experience supplying modular vaults and physical security solutions to clients, worldwide.
WEAPONS STORAGE SHELVING & PANELS
WEAPON SHELVING
Looking for a versatile option for weapons storage? Look no further than SecurityCaging.com's weapon storage shelves. Combat Weapon Shelving is the perfect solution for the safe storage of long rifles, shotguns, machine guns, sniper rifles, pistols, and tasers. Featuring an adjustable weapon containment system, these shelves are custom-designed for the safe, efficient, and the utmost effective storage of heavy weapons. These adjustable weapon containment systems are securely fastened to a slotted base shelf and allow for increased clearance and organization in your secure storage area. Slotted base shelves safely secure weapons allowing for arms to be stored in their own individual "compartments" eliminating the risk of potential damage or contact with other weapons.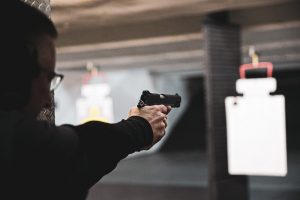 Available in single or double free-standing shelving units

Easy assembly

Reinforced back panels

Crossbars for rigidity

Fixed or mobile carriages

Custom widths and sizes allow for versatile weapon storage configuration
These Combat Weapon Shelving systems are simple to assemble using a heavy-duty post, crossbar, and panel system that are designed flush to floor. These systems are typically anchored to the floor of an armory, but can easily be expanded or transported to a new facility as your weapons collection changes and grows. SecurityCaging's Combat Weapons Systems are free-standing, allowing for easy and expeditious installation.
Specifications:
Standard widths of 24″, 30″, and 36″

Standard heights of 48″, 66″, 72″, 78″, and 84″

Depth of 15.2″ for single-sided and 27.9″ for double-sided
Weapon shelving is an exceptional solution for secure storage of heavy or bulky weapons while augmenting your available space and optimizing organization. With custom-designed options, working with our expert sales team will help you design a top-tier weapons shelving unit that can be utilized in any space. Call SecurityCaging.com to learn how Weapons Storage Cages can be enhanced when used in conjunction with Weapons Shelving providing you with an advanced physical security plan and immaculate organization for your space.
WEAPON PANELS
Weapon Storage Panels are an alternative form of weapons storage to weapons shelving. Weapons Panels are wall mountable, allowing for increased floor space and impeccable organization in your facility. Weapons Storage Panels are ideal for Armory's or facilities that require a wall mountable solution for their weapons, rather than free-standing weapon storage. Weapons Panels allow arms to be stored off of the floor, and when integrated into your facility allow for secure, systematic organization with minimal disturbance to existing structures or design of your space when installed. Weapon Panels are available in standard and custom sizes to house gear and weapons in a precise fashion for optimized aesthetics, safety, and coordination. Regardless of the size of your collection or the type of arms that need to be stored, Weapons Storage Panels can be tailored
 to meet and exceed your standards for your secure weapons storage area.
These Weapon Panels feature:
Fully reinforced wall-mountable weapon panels

Pre-punched to bolt to walls of an armory or secure storage area

Weight Bearing panels

Weapon panels support vertical weapon storage, shelves, and bins for ideal armory storage conditions

Store weapons vertically and horizontally

Pistol pegs available for handgun storage

Ability for variance in shelf width to accommodate gear
Weapons panels can be installed vertically or horizontally and are designed with pistol pegs or vertical weapons shelves or bins. SecurityCaging.com 's weapons panels are fully reinforced and support a wide variety of arms. Consult with one of our expert design and sales specialists to customize your Weapons Panels to achieve top-of-the-line safety, maximize your space, and refine your arms collection.
Specifications:
Reinforced steel with welded reinforcement channels

Standard widths of 18″, 24″, 30″, 36″

Standard heights of 30″, 36″, 48″

Available in 8 standard colors
Having to keep tabs on your weapons inventory can be a time-consuming and taxing process. Let SecurityCaging.com help you reap the benefits of implementing a weapons panel by creating a custom, cohesive, and strategic Weapons Storage System that will aid your facility in reaching pinnacle efficiency and safety. If you're looking to outfit your armory or protect a precious weapons collection, then the search is over. SecurityCaging.com is here to provide you with a hassle-free, comprehensive consultation and exceptional experience to help you design a secure system that will undoubtedly impress!
Contact Us
International Vault was the first established and UL-approved manufacturer of modular vaults. We have been providing security solutions for businesses with high-security needs since 1982. We exist to assist you in finding the right storage and security solutions for your business. With the fastest manufacturing lead times, seasoned experts, and highest available security performance and material spec security ratings, SecurityCaging.com is dedicated to finding the right products for you!
Looking for a more customized solution or more information for your business? Call us at (919) 742-3132 or contact us to speak with an expert and design your unique security solution today!