GIVE US A CALL
919-742-3132
---
Storage and Safety Solutions for Water Treatment Facilities

by SecurityCaging.com
At SecurityCaging.com, we offer solutions in storage, organization, safety, restricted access, and more.
Designed with modular customization in mind, our wire partitions are ready to be what you need them to be. Our panels are stackable, providing for fast installation and a building block approach. These systems are secure, with bolts accessible only from the inside and flexible, able to be assembled in single wall, two wall, three, and four wall configurations.
WATER TREATMENT FACILITY SECURITY SOLUTIONS
Security within water treatment facilities is essential to ensure the quality of the water we consume as well as protecting daily business activities and operations.
Guard Rail and Hand Rail Systems
Employee safety is key in water treatment facilities. Guard rails provide boundaries that separate areas housing heavy machinery or forklifts from areas with high employee traffic. SecurityCaging.com's guard rails are available in single or double rail options and can be customized to fit your space. Guard rails and handrails are vital for ensuring your employee's safety and will help prevent accidents near water reservoirs and equipment. 
Driver Cages
Driver cages are an ideal solution to easily restrict access to a facility using wire mesh partitions. Driver cages can be used for truck drivers, contractors, or employees to gain access to a facility using key fob access. The addition of driver cages is a simple way to protect and secure large facilities or warehouses by implementing another barrier to entry. A driver cage is intended to deter theft or vandalism when multiple people need access to certain areas of a  facility who may not have clearance for admission to the main warehousing unit.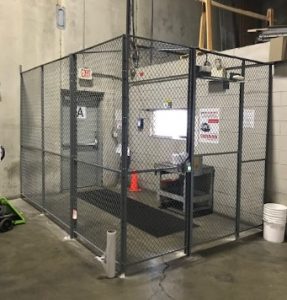 Wire Mesh Partitions
Wire mesh partitions provide several ways to organize and secure a space. Wire mesh partitions can be installed and customized to tailor your facility's needs. Our partitions can be paired with Guard Rails to enclose machinery and restricted areas to establish boundaries and protect employees from unnecessary risks. 
Mezzanine Systems
Mezzanine systems are designed to maximize the functionality and efficiency of facility and warehouse space. In these facilities, the addition of mezzanine systems allow for a second floor of storage or optimal office space with a view of your facility. Mezzanines allow for greater storage capacity and organization, especially when used in conjunction with high-density storage shelves or wire mesh partitions. 
Wire Mesh Lockers
From individual technician lockers to large storage lockers, wire mesh lockers provide a secure storage solution for water treatment facilities. Technician lockers allow for each employee to have their own secure space to store personal belongings or equipment and tools. Internal shrinkage can inevitably occur when equipment and tools are kept in the open with little accountability as to where they are secured and stored. Avoid unnecessary complications by implementing individual lockers to refine organization and evade theft within your facility. SecurityCaging.com's Wire Mesh Lockers can be configured and attuned to fit your preferences and available space in any facility. 

High-Density Storage Shelves
High-density storage shelves provide compact storage and systematic organization for high volumes of inventory. Our storage shelves provide options for portable or stationary use to meet your facility's needs. High-density storage shelves furnish your space with prime organizational features and maximum protection for inventory when used in conjunction with wire mesh partitions. 
Contact Us Today!
International Vault was the first established and UL-approved manufacturer of modular vaults. We have been providing security solutions for businesses since 1982. We exist to assist you in finding the right storage and security solutions for your business. With the fastest manufacturing lead times, seasoned experts, and highest available security performance and material spec security ratings, SecurityCaging.com is dedicated to finding the right products for you!
Looking for a more customized solution or more information for your business? Call us at (919) 742-3132 or contact us to speak with an expert and design your unique security solution today!