---
Tenant Storage Lockers,

By SecurityCaging.com.
At SecurityCaging.com, we solve problems of storage, organization, safety, pilfering, restricted access, and more.
Our product delivers a strong deterrent to intrusion, is durable, and provides a high-end, professional appearance. SecurityCaging.com is always the right choice. When you don't want to leave security to chance, rely on the reputation of International Vault, our parent company, with almost 4 decades of experience supplying modular vaults and physical security solutions to clients, worldwide.
Tenant Storage Lockers
Individual, Personalized Storage for Residential Complexes
Tenant storage lockers by SecurityCaging.com enable any residential housing facility to offer personal storage lockers for their residents. Generally located in a parking garage or other storage area, residents are able to rent a storage locker and place personal items in a safe, secure place outside of their immediate living space.
These lockers are a great way to utilize vacant space within a residential community, with the ability to charge a monthly or annual fee for renting. Most of the time, complex owners will earn back their initial investment on the lockers, merely through renting, within one year of installation.
Not only are these lockers a great investment, but they are also a great addition for residents of a multiple-family housing community.
Call 919-742-3132 or visit our Contact Us page to learn more regarding our tenant storage lockers.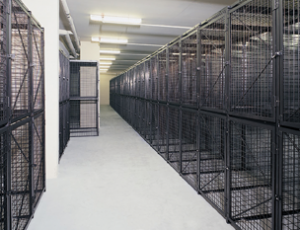 Specifications and Style Options
These tenant storage lockers feature standard ten gauge 2″ x 2″ square welded wire mesh.
Single Tier

Walk-in systems
3′ or 4′ door option
3′, 4′, 5′ depths available
7'6″ in height

Double Tier

Great for limited spaced areas
Same width and depth as single tier
3'9″ in height for each locker
7'6″ total height

Keep your residents organized and clutter-free
Ceiling and floor panels available
Shelving and back panels are also available
Easy visibility inside of lockers
All of the doors found in this locker system are pre-hung and welded, thus making them easy to configure.
Residents of any complex will love the added space these lockers provide. Allowing the storage of outdoor equipment and other items you generally would store in a garage, tenant lockers are a great alternative for buildings with limited space for storage outside of immediate living areas.
If you are seeking an easy investment to incorporate into your apartment or senior living complex, consider installing wire mesh tenant storage lockers.
Contact us to learn more about how Tenant Storage Lockers can benefit and serve your complex residents!