Pharmaceutical Security Caging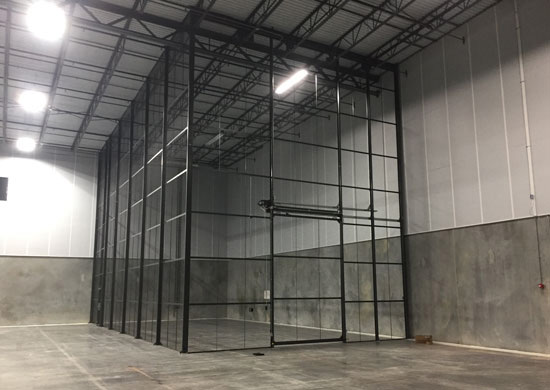 As an incredibly large, multi-billion dollar industry, pharmaceutical companies require extensive secure areas for the storage of high volumes of inventory. From storage of raw materials necessary for manufacturing to finished prescription drugs, security is essential for protecting and ensuring strict regulations are met from production to sale. Security Caging offers DEA and Health Canada compliant modular vault and security caging solutions to protect the assets and inventory that drive the pharmaceutical industry.
DEA and Health Canada Compliant
Why skimp on a system that does not meet necessary requirements? Offering flush to floor and roof systems, Security Caging understands what it takes to manufacture and install DEA and Health Canada Compliant wire mesh systems. Inclusion of tamper-proof breakaway hardware, hydraulic door closers, and electronic access, our Security Caging systems are turnkey and ready for Pharmaceutical use! Investing in a security caging system that performs will guarantee safety and security of pharmaceutical inventory.
Serving a Variety of Scheduled Drug Storage
From schedule I to schedule V, we have a storage solution. Bringing a variety of products to the table, we cater to all controlled substance storage. Modular vaults are the perfect addition to your facility for schedule I and II substances, providing higher level security for more sensitive drugs and raw materials. Security caging is an excellent, secure option for the storage of less sensitive substances and finished products ranging between schedules III to V. Choosing a system that is based off schedule of the controlled substances being stored and volume of inventory will eliminate any question about regulatory compliance down the road.
Inventory Volume
Large and small volumes of inventory can be stored in DEA and Health Canada compliant wire mesh systems. Ranging from the size of a small locker to thousands of square feet, modular security caging systems can be customized in a variety of sizes, all while remaining compliant with stringent DEA and Heath Canada requirements. Warehouses and retail locations can be outfitted with these modular cages and partitions with ease. Security Caging also assists with design development to promote perfect fit of your new DEA or Health Canada compliant cage.
Getting Started
Getting started is easy! Whether your facility has detailed blueprints or a conceptual idea, our team is ready to work with you. In-house engineers, designers, and our experienced sales team will provide guidance during product selection, layout, and execution. No matter the stage of your project, Security Caging by International Vault can help. Give us a call, 919-742-3132, to speak with our team and get started on the design and game plan for your DEA or Health Canada compliant secure cannabis storage system.