GIVE US A CALL
919-742-3132
---
Hospitality, Breweries, Wineries,

Security Caging
At SecurityCaging.com, we offer solutions in storage, organization, safety, restricted access, and more.
Designed with modular customization in mind, our wire partitions are ready to be what you need them to be. Our panels are stackable, providing for fast installation and a building block approach. These systems are secure, with bolts accessible only from the inside and flexible, able to be assembled in single wall, two wall, three, and four wall configurations.
Hospitality Secure Storage 
Why is secure storage essential in the hospitality industry?
Similar to retail security, the hospitality industry requires secure storage to house and protect inventory ranging from expensive wine collections, liquors, and cannabis products, to kegs and merchandise in the Brewing industry. The introduction of a secure storage system not only protects your facility and inventory from external and internal theft but allows for enhanced safety features that protect your patrons from machinery or potentially dangerous internal operations. SecurityCaging.com has a vast array of attractive and customizable Wire Mesh Partition options for any application. Need a driver's cage to keep unauthorized visitors away from stored inventory? Check. Are crowds at your brewery getting a little too close to manufacturing equipment? Machine Guarding, you got it! In a thriving and hectic industry where there's never a slow moment, let SecurityCaging.com assist you in designing a secure storage system that will protect your business and its patrons whether you're on or off the clock.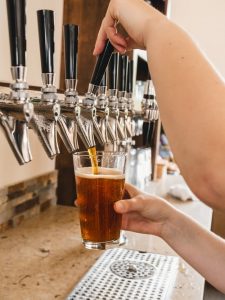 How is this applicable to my business?
Give yourself and your employee's peace of mind knowing that your business is secure and protected from "smash-and-grab" burglars, internal theft, or rowdy customers by implementing Wire Mesh Partitions. Our variety of caging configurations and style types can be designed down to fine details of the mesh gauge, custom color, and finish option. SecurityCaging.com's product lines are customizable to match and promote your business's brand colors for an aesthetically pleasing, appealing addition to your facility. 
Wineries can optimize their storage of expensive bottles by integrating one of our Wine Storage Locker systems. These lockers store bottles in a vertical shelving system designed to protect and secure the most expensive collections, or stock inventory for your winery in a systematic fashion. As the Brewing industry continues to flourish, customers are flocking to their favorite local brewery to enjoy good drinks with good friends. The safety of your business, employees, and patrons is essential in high-traffic areas. Breweries and distributors can utilize SecurityCaging.com's wire mesh partitions to design secure inventory and merchandise cages, drivers cages for seamless deliveries, and partition walls to guard expensive machinery. In conjunction, inventory cages, drivers cages, and machine guarding furnish your facility with the prime security measures that drive success and deter theft. Cannabis dispensaries and lounges have high-dollar quantities of cannabis products that are extremely susceptible to theft if left unattended. DEA and Health Canada rated Inventory Caging systems offer high-density, organized storage to prevent internal shrinkage or theft.  Visual Barriers are available for any secure system and are a beneficial addition that visually conceals the contents of your caging system from wandering eyes. 
Physical Security is Essential!

Physical security in the Hospitality industry is essential to promoting growth and sustainability within your business. In an industry that relies on the impact and influence of its customers, proving patrons with an environment that they feel safe and secure in is crucial to success and positive feedback. Not only does this boost customer confidence in your business, but also elevates employee morale. The application of secure storage reduces internal and external theft risk and stimulates top efficiency during inventory counts. Investing in protecting your business is an invaluable asset that immediately will reap benefits. Mitigate theft and injury risk, save money, and watch the happy customers flood in the door!
As a proud business owner, expect only exceptional service from SecurityCaging.com throughout your secure system design process. Proudly exhibit your caging system in your business knowing that you received a top-of-the-line product perfectly tailored to your unique business, protecting you in a booming industry that never sleeps.
Contact Us Today!
International Vault was the first established and UL-approved manufacturer of modular vaults. We have been providing security solutions for retail businesses since 1982. We exist to assist you in finding the right storage and security solutions for your retail business. With the fastest manufacturing lead times, seasoned experts, and highest available security performance and material spec security ratings, SecurityCaging.com is dedicated to finding the right products for you!
Looking for a more customized solution or more information for your business? Call us at (919) 742-3132 or contact us to speak with an expert and design your unique security solution today!