Security Caging &
Cannabis Insurance
How Incorporating a Comprehensive Secure Storage Plan Can Benefit Cannabis Insurance Coverage
Is your Cannabis business insured? Are you looking to purchase insurance coverage for a Cannabis business? Understanding compliance from application submittal to daily business operations, ensuring your company is covered is a priority! Security Caging by International Vault interviewed Cannasure's Vice President, Director of Underwriting, Kieran O'Rourke, to further understand the security requirements and benefits of secure storage systems from an insurance perspective.
Cannasure, a Cannabis insurance company with over 10 years of experience in the industry, is an agency well-equipped in all aspects of insurance services within the Cannabis realm. From property to liability coverage, they are a frontrunner in risk management assessment and policy underwriting. Offering their services to dispensaries, cultivators, processors, manufacturers, and many others, Cannasure provides their expertise in several facets of the Cannabis industry.
Devise a Security Plan
Building a successful business within the Cannabis industry can be a challenge, especially when searching for insurance coverage. Dynamic and occasionally unpredictable, the industry is fresh and growing roots in locations worldwide. As a business in such an evolving climate, creating a strategy for the security and stability of your company is an undeniable necessity. Operationally, the Cannabis industry can be unforgiving regarding expenses, and purchasing insurance to reduce the risk of loss can also be tricky and expensive. Discovering achievable, effective solutions and reliable partners to comprise the backbone of your Cannabis business will induce success on several levels of your operation, including financially.
During the interview with O'Rourke, our goal was to establish and understand the desired physical security requirements of cannabis insurance and potential premium reductions that may result from installing a secure storage vault or security caging system. Speaking about the diversity of risk management assessment, O'Rourke confirmed that companies who choose to implement a secure storage vault or cage are more likely to be classified as a good risk. Being classified as a "good risk" in an industry with some uncertainty regarding security compliance could result in lower premiums, higher coverage, and higher capacity limits.
Benefits and rewards for those who go above and beyond
O'Rourke detailed the necessary security requirements Cannabis facilities must install and implement to be considered for insurance coverage through Cannasure. These precautionary measures include a central station alarm, cameras, motion sensors, and (at minimum) a 2,000-pound safe bolted to the floor or a 6-sided Vault for product and cash storage. "When we notice companies going above and beyond regarding the security of their facility, we reward them", O'Rourke stated. Whether the reward is classified as higher coverage or lower premiums, the result of protecting Cannabis facilities resounds in more than just operational instances. Incorporating a secure storage system that shows insurance agencies immense risk mitigation will benefit Cannabis companies both from an insurance and physical security standpoint.
Deciding on a physical security plan should be based off both the basic criteria listed earlier by O'Rourke and expert physical security coordinators. Ensuring the proper number and position of cameras and motion sensors, a central alarm system, and incorporating a secure storage safe, vault, or cage for the storage of valuable inventory are essential to the interior build-out of a Cannabis facility.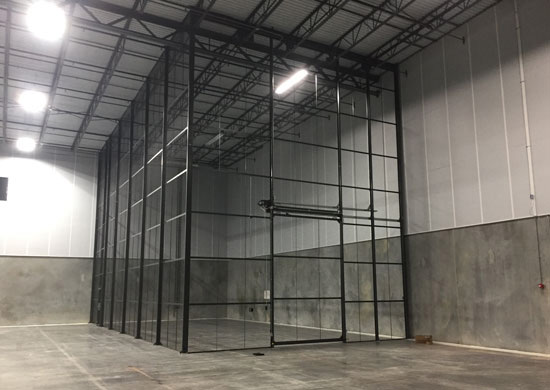 Safe, Vault, or Security Caging?
Choosing between a safe, vault or security caging system depends on the needs of your facility. How much product and cash does your business need to store? How much space will my location allow in terms of secure storage? What level of protection is ideal for my facility? Purchasing a safe with the same level of UL protection as a modular vault can be expensive. Offering more square footage of storage space, higher intrusion resistance, and cost-effectivity, a vault may be the most valuable and proactive security decision for your facility.
Offering customized modular vaults and security caging to fit perfectly inside any dispensary, cultivation, testing, or processing facility, International Vault is an expert in providing secure storage solutions that will give you an edge when it comes to obtaining insurance for your Cannabis business. Our UL rated vault panels, GSA rated vault doors, and Health Canada/DEA compliant cages are sure to showcase to any insurance agency that your business' valuable assets are protected and secure.
Whether a single dispensary or a multi-million-dollar Cannabis empire, we know how important insuring and protecting your business is. With over 30 years of experience in the modular security vault and security caging industry, Security Caging by International Vault is a leader in worldwide secure storage solutions. Offering our modular security vault and security caging products direct to the Cannabis industry, we eliminate the extra costs of purchasing through a distributor. Not only are our products cost-effective and secure, they are customizable and turnkey. Contact Security Caging by International Vault today to learn more about how installing a comprehensive, modular secure storage vault or cage could benefit your insurance coverage!
Call us at 919-742-3132 or visit our Contact us page today!