---
DEA Compliant Caging,

by SecurityCaging.com.
At SecurityCaging.com, we solve problems of storage, organization, safety, pilfering, restricted access, and more.
Our product delivers a strong deterrent to intrusion, is durable, and provides a high-end, professional appearance. SecurityCaging.com is always the right choice. When you don't want to leave security to chance, rely on the reputation of International Vault, our parent company, with almost 4 decades of experience supplying modular vaults and physical security solutions to clients, worldwide.
DEA Caging Systems
Customized | Compliant | Secure
DEA requirements can be stringent when it comes to physical security. Ensuring your business is compliant with these regulations could eliminate headaches with insurance and other hurdles necessary for conducting business. In many circumstances, wire security cages are required for certain forms of storage to meet the US Drug Enforcement Administration's requirements for physical security of controlled substances as outlined in Title 21 CFR Sections1301.72-1301.76.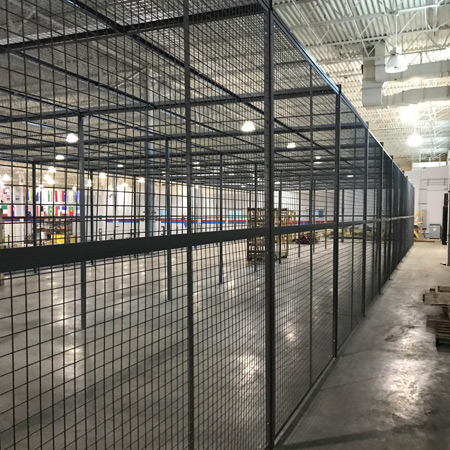 Whether for Cannabis, Pharmaceutical operations, Customs and Border Patrol or any other form of drug storage, SecurityCaging.com is experienced and well-equipped to install a physical security system that aligns with all of the requirements for DEA storage.
Give us a call 919-742-3132  to learn more about how we can install a customized DEA compliant physical security system that is bound to meet and exceed the needs of your business operation!
Compliant Caging for any Application
While Pharmaceuticals and Cannabis require DEA compliant caging, so do other applications. Often times Customs and Border Control confiscates drugs and other illegal substances that require secure storage until transferred to evidence storage or destroyed. Ensuring these cages are up to standards to deter theft, lost items, and increased organization is crucial to a successful and efficient operation.
Evidence storage is another area that occasionally calls for DEA compliance. When drugs or other substances are confiscated, they need a safe, secure area to be stored and tagged. Sometimes these security cages are installed in police stations or courthouses to safely contain various evidence needed in specific cases during a hearing or trial. Ensuring the contents of a DEA storage cage are secure could make the difference in the forensics behind a criminal case.
No matter what your operation needs DEA security caging for, we can ensure that your turnkey system is secure, strong, and compliant.
Contact us or call 919-742-3132 to learn more about our DEA caging systems!