GIVE US A CALL
919-742-3132
---
Securing Warehouse Storage Areas,

for Materials Management
At SecurityCaging.com, we offer solutions in storage, organization, safety, restricted access, and more.
Designed with modular customization in mind, our wire partitions are ready to be what you need them to be. Our panels are stackable, providing for fast installation and a building block approach. These systems are secure, with bolts accessible only from the inside and flexible, able to be assembled in single wall, two wall, three, and four wall configurations.
Warehouse Solutions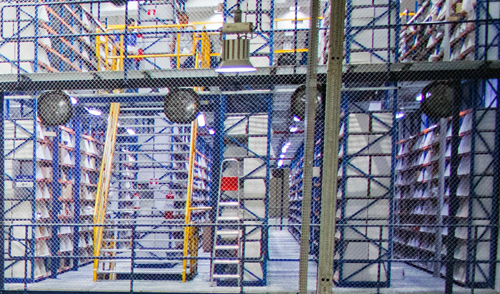 Wire mesh caging provides a number of advantages. While providing a secure storage area for products, tools, and machinery, the contents of any partitioned unit remain clearly visible, aiding in inventory and security inspections.
Our caging can be built floor to ceiling or equipped with their own secure wire-mesh covers. Wire caging is not only flexible in design but flexible in disassembly, re-configuration, and re-use. As your needs change, so does our caging.
Creating unique, secure spaces for different varieties of stored items is a part of good materials management. Security caging can also be used to build on-floor security rooms for personnel and management.
Our modular design and optimized mounting and hardware systems allow for fast installation.
Heavy assembly hardware, base plates, and anchors provide top-of-the-line security.
Sliding doors, service doors, hinged doors, double-hinged doors, and Dutch doors deliver the ease of access that is right for you.
Call us today at 919-742-3132. Our wire caging solution provides are ready to engineer the perfect solution for you needs.
Latching and Locking Devices
SecurityCaging.com offers a wide variety of keying and lock options for every purpose. Available latches include simple thumb-turn, doorknob, and lever handles for non-secure storage areas. Keying options and master keys are available.
Locks can be manual or electrical, with lever handles or digital keypads. Electromagnetic locks are available for sliding gates and electric strike locks allow hinged gates to open when activated by cards, keypads, or remote push buttons.
For any questions or for additional information, call us at 919-742-3132 or contact us today!