---
Security Caging

for any industry, anywhere.
At SecurityCaging.com, we solve problems of storage, organization, safety, pilfering, restricted access, and more.
Our product delivers a strong deterrent to intrusion, is durable, and provides a high-end, professional appearance. Security Caging is always the right choice. When you don't want to leave security to chance, rely on the reputation of International Vault, our parent company, with almost 4 decades of experience supplying modular vaults and physical security solutions to clients, worldwide.
Color Customization and Finishes
WHAT ARE MY OPTIONS?
Through utilizing the in-depth consultation process SecurityCaging.com provides at the start of each of our unique projects, your secure caging system can be customized beyond choosing which mesh type and configuration suit your needs best. With a wide variety of color options and finishes, your caging system will be custom designed and tailored to exceed your expectations aesthetically as well as through performance and durability. Our available stock color options include grey, yellow, black, blue, white, tan, orange, and red. These colors are available in Powder Coat or Liquid Enamel finishes. A list of our finish options are below:

Powder Coat Finish

Custom Color matching through RAL# and paint chip sample available

Galvanized Finish

Plain Steel

Brushed (Stainless Steel) Finish

Electro Polished (Stainless Steel) Finish
Does customization sound like too much of a fuss? Our Grey Powder-Coat Finish is our standard recommendation and most budget-conscious option for a finished look, or opt to receive your materials unfinished for an industrial look.
BENEFITS OF POWDER COAT FINISH VS. ACRYLIC ENAMEL FINISH
When choosing a finish option for your materials, durability, longevity, and aesthetics are key factors to consider to ensure your secure storage cage upholds its fresh, new look. Powder Coating is a process where polymer resin, additives, and other pigments are combined resulting in a baking powder-like substance that is sprayed onto the materials and cured through heat. Powder Coating your materials protects them from possible damage during the shipment process, protection from damage from daily equipment use in your facility, and coverage for simple employee accidents like grazing, scratching, or dinging materials. Powder Coating is an environmentally friendly, cost-effective finish option that upholds shine and attractiveness with resistance to physical damage, weather conditions, water damage, and chemical erosion.
When considering a powder coat finish option versus acrylic enamel, the benefits of powder coating your materials outweigh the simplistic features and potential damage risks, like accidental scratching during the shipment process, that could be a result when choosing an acrylic enamel finish over powder coating. Powder coating will undoubtedly prove to be the more durable, sustainable, and attractive option for your caging system. Call one of our sales representatives at SecurityCaging.com today to discuss finish options for your caging system today!
GALVANIZED FINISHES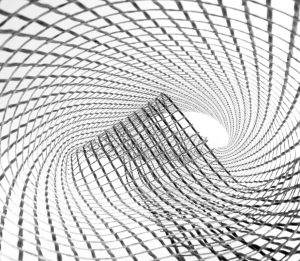 Galvanizing material is a great option for wire mesh caging that may be erected outdoors, or in an area where there may be exposure to the elements. Galvanized materials uphold their alluring shine and durability in any region, from the salty coastal humidity to mild urban climates. Galvanized materials have extensive longevity after installation, and due to the nature of the materials, typically do not require comprehensive maintenance or touch-ups. As one of our most physically damage-resistant material finishes, galvanization protects from any damage that could occur in the shipping or installation process, or in daily use. Galvanization of your materials ensures a reliable, tough, and sleek option for your caging's finish. Consult with one of our expert sales representatives to discuss if galvanization of your cage can boost efficiency, longevity and be an attractive asset in your facility. SecurityCaging.com will help you plan, design, install and implement the perfect secure caging system to provide you with the utmost secure option for your secured items and exceed your expectations throughout the purchasing process.
Contact Us
International Vault was the first established and UL-approved manufacturer of modular vaults. We have been providing security solutions for businesses with high-security needs since 1982. We exist to assist you in finding the right storage and security solutions for your business. With the fastest manufacturing lead times, seasoned experts, and highest available security performance and material spec security ratings, SecurityCaging.com is dedicated to finding the right products for you!
Looking for a more customized solution or more information for your business? Call us at (919) 742-3132 or contact us to speak with an expert and design your unique security solution today!