Security Caging Layouts and Orientation
Determining Layout and Cage Orientation
Company facilities and residential applications have very different needs when it comes to secure storage. What type of secure storage area will best protect these valuable assets? How much space does the facility offer for a secure storage area? Are there any compliance and regulation requirements our facility needs to meet in terms of secure storage? Will the industry have an effect on the type of secure storage area purchased and installed? Once your company or residence has answered these questions, layout and orientation of the secure storage system can be configured.
When designing a secure storage area, many different aspects are taken into account. What kind of assets will be stored? How much volume of this asset need to fit inside of this secure storage area? What shape or layout of this secure storage area will my location allow? Determining where and how the security cage or vault will be integrated into the space is the next step.
Visualizing the Space
Whether the location requiring security caging is a warehouse or residential garage, there are infinite ways to configure a security caging system. Utilizing existing walls, creating a stand-alone four-wall cage, or merely installing a single partition are excellent ways to transform the area into an effective, secure, workable space. From TA-50 Military wire mesh lockers to woven wire mesh sliding doors, our wide range of security caging products enables a turnkey, custom experience for our clients. Our expert caging specialists will work with you to develop a plan, compose drawings, and bring the vision of your security cage to life. Call 919-742-3132 to get started!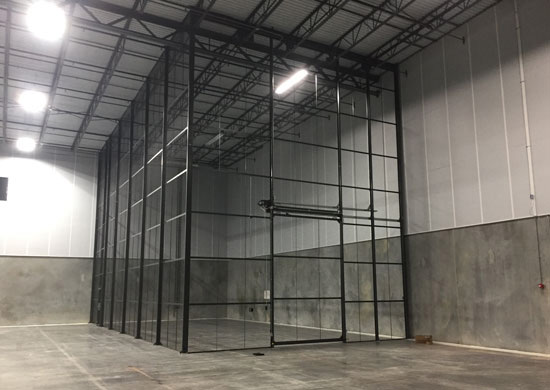 Utilizing the Existing Facility
By incorporating existing walls of your desired cage location, you can increase security, reduce material and installation costs, and save space by eliminating gaps between the walls of the facility and the installed cage. Deciding the dimensions that will best suit your budget, location, and storage requirements will give our caging experts the ability to customize and create a security caging system that perfectly aligns with the existing building and future needs of the facility. By communicating the elevation of the existing building, our team of security caging engineers and designers will determine if existing walls can be incorporated into the layout and if the ceiling can be utilized in order to reduce the amount of security caging installed.
Drawings are incredibly important to the design process. As both a confirmation of dimensions and conceptualization of the desired layout, drawings are essential to building your security cage vision. Hand-drawn or computer generated, as long as the sketches or drawings of the cage layout are clear and detailed, Security Caging by International Vault will ensure the dimensions and layout are ideal for your facility or residence.
Multiple Cage Orientation
In the case multiple cages are needed, there are a few cost and space saving options to consider; wall sharing and utilization of existing facility walls or partitions. If there are multiple cages required in a space for storage of different assets, sharing cage walls may be the most effective and cost efficient solution. Separating the cage areas with the same wall will allow for material to be stored in different areas, but disjointed by the same partition wall. Many government, military, and commercial warehousing applications use this method when large amounts of security caging are necessary.
If your home or business is seeking the benefits of a security caging system, call us at 919-742-3132 or visit our Contact us page today to speak to a Security Caging expert and get started on the perfect secure storage area for your commercial or residential facility!