---
Guard Rails and Hand Rails,

for increased warehouse protection.
At SecurityCaging.com, we solve problems of storage, organization, safety, pilfering, restricted access, and more.
Our product delivers a strong deterrent to intrusion, is durable, and provides a high-end, professional appearance. SecurityCaging.com is always the right choice. When you don't want to leave security to chance, rely on the reputation of International Vault, our parent company, with almost 4 decades of experience supplying modular vaults and physical security solutions to clients, worldwide.
Guard Rail and Hand Rail Systems
To protect your warehouse employees, equipment, and merchandise.
SecurityCaging.com proudly offers Guard Rail and Hand Rail systems.
These protective railings increase the safety of your manufacturing or warehouse facility by providing a barrier between workers, machinery, elevated surfaces, and heavy equipment. Failure to separate these entities of a warehouse or manufacturing facility could result in the injury of an employee or severe damage of expensive equipment.
Taking precautionary measures and installing both Guard Rail and Hand Rail systems could prevent devastating loss and injury within your facility.
Call 919-742-3132 to learn more about our Guard Rail and Hand Rail systems.
Guard Rail Options
Guard Rails by SecurityCaging.com have the ability to withstand up to 10,000 pounds of impact at 4mph. This could protect equipment and employees from forklift or any other accidents involving heavy machinery.
Available in single or double rail, these protective barriers are the perfect addition to any warehousing or manufacturing facility. All of our Guard Rails are 4″ square x 1/4″ wall structural steel tubing with metal caps, and 9″ square x 1/2″ thick steel base plates. All of the base plates have four 7/8″ round anchor holes in order to secure these systems to any floor.
Custom heights are available, and standard length increments of one foot from 0'8″ to 9'8″.
Single Guard Rails are 17″ high
Double Guard Rails are 43″ high
All of the components of these Guard Rail systems bolt together making them easy to install, and all hardware for installation is included.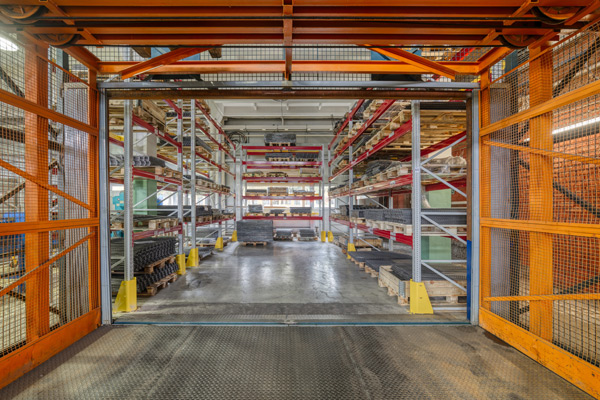 Industrial Hand Rail Options
Hand Rails by SecurityCaging.com will separate employees and equipment from elevated areas, increasing fall prevention. By installing these Hand Rail systems in areas such as loading docks, multiple level warehouses, and various manufacturing plants separated into several floors, you can increase the safety of your day to day operations.
2″ square tubing
43″ high
Standard Section Lengths
Welded Rail Connectors
Pre-drilled ready to bolt 3/8″ floor anchor holes
Mid rail centered at 20″ from floor
Optional 4″ kickplate
Adding Hand Rails to your warehouse or multi floored manufacturing facility can increase overall employee and equipment safety dramatically.
Contact us to learn more about how Guard Rails and Hand Rails can benefit and protect your warehouse or manufacturing facility!