---
Forensic Lab Storage,

by SecurityCaging.com.
At SecurityCaging.com, we solve problems of storage, organization, safety, pilfering, restricted access, and more.
Our product delivers a strong deterrent to intrusion, is durable, and provides a high-end, professional appearance. SecurityCaging.com is always the right choice. When you don't want to leave security to chance, rely on the reputation of International Vault, our parent company, with almost 4 decades of experience supplying modular vaults and physical security solutions to clients, worldwide.
Forensic Lab Storage Equipment
What is Forensic Lab Storage Equipment? 
From initial evidence collection to the storage and organization of logged evidence, security and organization are essential in Forensic Labs. Forensic Labs provide critical support for our justice system and play an important role in providing vital information to law enforcement for crimes ranging from small infractions to substantial crimes. SecurityCaging.com offers secure solutions for Forensic Lab Equipment including Forensic Lockers and Wire Mesh Caging for high-density evidence storage or laboratory equipment security.
Organization & Space Utilization
When SecurityCaging.com's Wire Mesh Caging systems are paired with High-Density Storage Shelving, missing or mislabeled evidence and chaos are worries of the past. Our High-Density Storage Shelving utilizes vertical space and eliminates the time-wasting task of slowly sorting through disorganized files or evidence logs. Implementation of these systems maximizes the amount of evidence that can be stored in a facility systemically and cohesively. Our systems are custom-designed to fit your facility's needs and are easily portable in the event of laboratory expansion or relocation.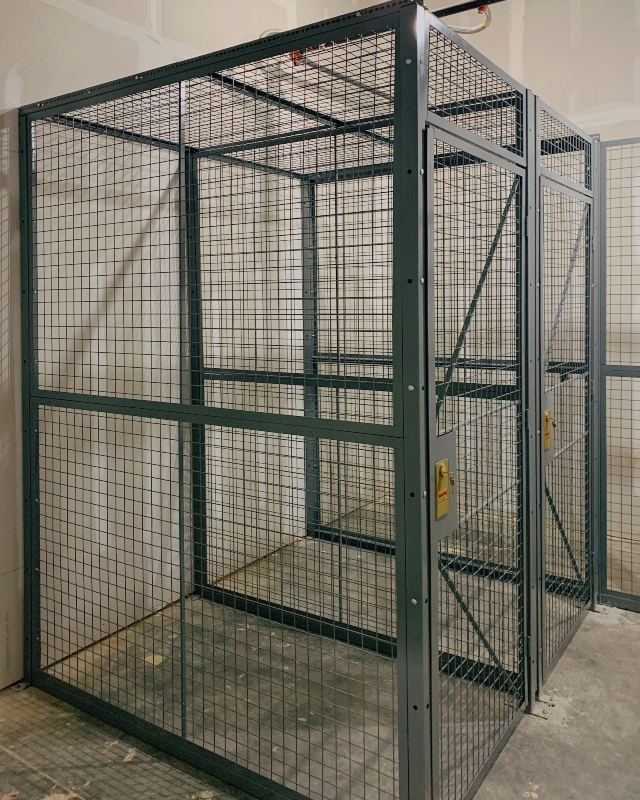 Secure Storage Lockers and Wire Mesh Partitions 
Fabricated from our durable Wire Mesh Partitions, our secure storage lockers offer a cost-effective and attractive solution for housing new evidence that's been dropped off, or for providing secure long-term storage of past evidence and files. Lab equipment can also be safeguarded by implementing Wire Mesh Partitions to deter unauthorized users from accessing equipment. Depending on the level of security needed for certain evidence or files, our caging systems can be customized with heightened security features. Our lock options range from our basic padlocks arrangements, electric strike access, or biometric access for the utmost secure storage of evidence or lab equipment.
Privacy Shields & Curtains
With highly sensitive materials and equipment, certain secure areas require increased privacy. Paired with our Forensic Lockers or Wire Mesh Caging, a privacy curtain or visual barrier can shield prying eyes from evidence or equipment that unauthorized employees or visitors should not have access to. These shields provide the seclusion and privacy of a completely enclosed storage unit but are secure, portable, and cost-effective. Customized to suit your Forensic Locker or cage, privacy curtains are a simple add-on to increase privacy within a facility.
Cost-Effective
With competitive budget pricing, our systems are top-rated and guaranteed to provide you with secure storage solutions for your facility. Our systems are customizable and portable and can easily be designed to suit the needs of any facility. Utilizing Wire Mesh Partitions and Forensic lockers benefit your laboratory by providing multi-use secure areas to house sensitive information or high-dollar equipment away from authorized personnel. In the event a facility or laboratory needs to expand, our portable systems can expedite the renovation or moving process and cut costs.
Contact Us
International Vault was the first established and UL-approved manufacturer of modular vaults. We have been providing security solutions for businesses since 1982. We exist to assist you in finding the right storage and security solutions for your business. With the fastest manufacturing lead times, seasoned experts, and highest available security performance and material spec security ratings, SecurityCaging.com is dedicated to finding the right products for you!
Looking for a more customized solution or more information for your business? Call us at (919) 742-3132 or contact us to speak with an expert and design your unique security solution today!